Carbon C-Thru Road Frame
January 2008
This experimental carbon composite C-Thru road frame was the result of the idea of using a framed structure to build a bicycle frame. The frame is completely made from solid carbon fiber rods, except for titanium rear dropouts and 7075 aluminum alloy inserts for the BB and the headset cups.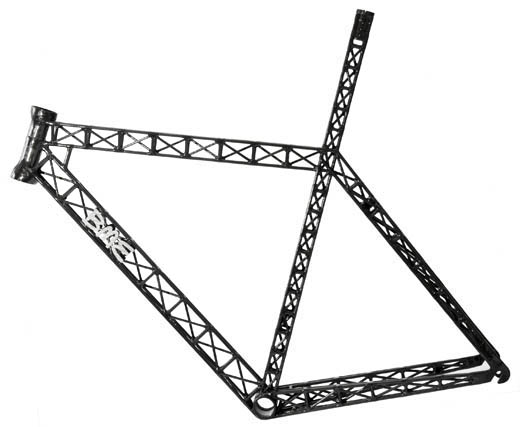 During construction, all the beams were bonded together in the frame jig with systematic and precise control of the position and alignment in the structure and the overall geometry of the frame. Once all carbon beams were bonded together with special epoxy resin, each joint was lashed with carbon fibers to ensure their strength. This was almost surgical work, really requiring a lot of patience. The critical parts of this frame were the connections of the "main tubes", mainly head tube and BB area, so lot of attention was paid to these areas. Then, each joint was softly sanded to have a smooth shape.
The weight of the frame is 1215 g (2.7 lbs), but low weight was not a goal of this project. Thanks to the framed structure design, the frame is very stiff.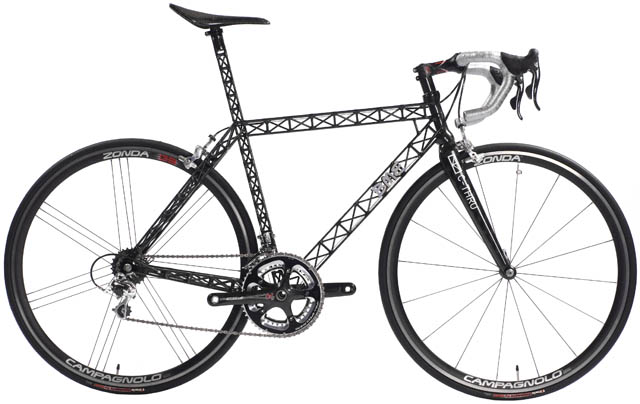 The fully equipped C-Thru bicycle was presented for the first time at NAHBS 2008 (The bike was completed just one day before the NAHBS, so temporarily there were lot of spacers under the stem).