B8 handmade frames - Go anywhere. Anytime.
The B8 frame takes advantage of our proprietary carbon lugged construction method to allow the use of a variety of tubing materials, or combinations of different materials to provide a frame with ride characteristics tailored to suit your individual needs and personal taste. Whether you prefer the quiet ride of bamboo, the stiffness of carbon, the distinctive look of titanium, or a combination of all three, there's a B8 frame that's just right for you.
The geometry of B8 frames balances the best characteristics of a Cross-Hybrid frame suitable for performance oriented commuters, fitness, cyclocross and touring riders. The frame is designed for MTB cranksets and with clearance up to 42 mm tires and 160 mm disc rotors.
Laminated Bamboo
Eco-comfort
A new frame tubing material developed by BME Design, laminated bamboo tubing is made from bamboo veneer, rolled in layers and laminated at high pressure. It blends the quiet, smooth ride quality that natural bamboo is known for with the structural uniformity and durability of an engineered material, resulting in a frame that feels both light and solid, while being free from the annoying drivetrain related noise that is common to some frames and materials. If you want performance and refinement, you want laminated bamboo.
Laminated bamboo can certainly hold its own in the urban riding environment as well as in grabbing the attention of riders and pedestrians looking for a bit of design magic.
Weight: from 1560g (can vary depending on the tube wall thickness)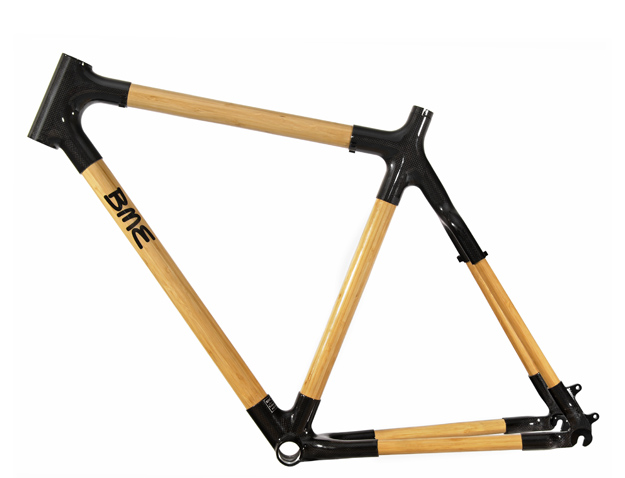 Titanium
Classy
A bit of bling, durability, and a compliant ride. With styling cues echoing from early 90's chic, the bike, in this guise delivers on a utilitarian flare.
Weight: 1760 g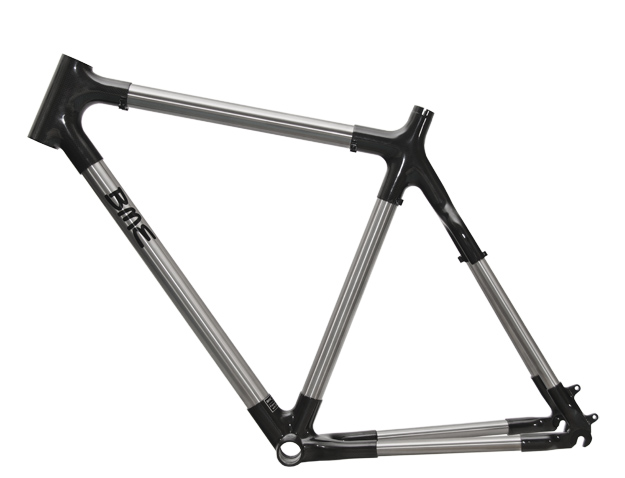 Carbon Fiber
Race ready
Suited for general riding and riders who favor clean design and excellent technical execution.
The frame tubes feature a gold colored wire weave in the outer carbon layer that gives this frame a distinctive look and makes it stand out in a crowd.
Weight: from 1300 g (can vary depending on the carbon tube wall thickness)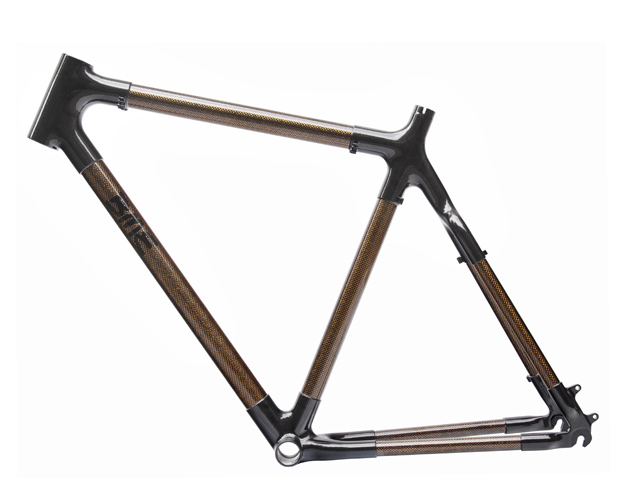 Natural Bamboo
Building experience with bamboo frames since 2003. Using our proprietary joining techniques, we have achieved a fusion of natural materials and high strength platform. Although during the history of building the B8 bamboo frames there were no issues with the quality, this material was discontinued, as we developed Laminated bamboo which is superior to natural bamboo in uniformity and performance.
Weight: from 1800 g (can vary depending on the tube wall thickness)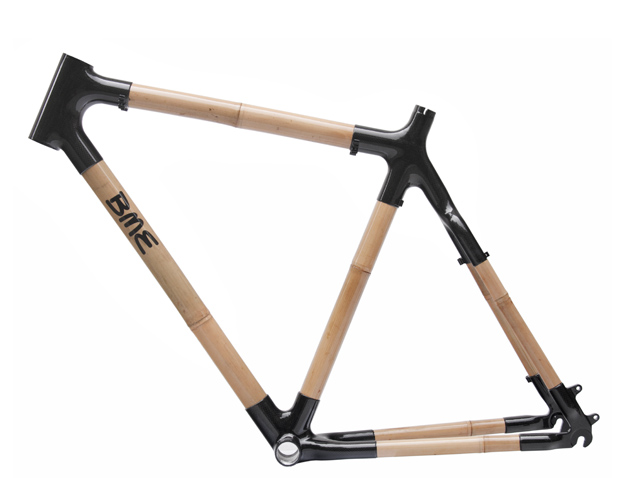 B8 frame geometry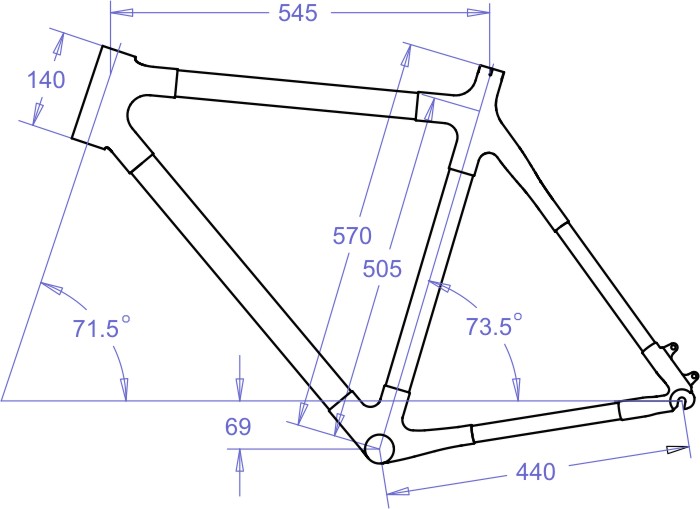 The sloping top tube of the B8 series frame yields greater "stand over" clearance than frames with more traditional horizontal top tubes , which allows one frame size to accomodate a wider variety of riders .
One frame size with a stem between 80 mm and 120 mm and spacer stack from 0 to 35 mm for riders height from 175 cm to 185 cm is covered without incurring the unnecessary cost of bespoke geometry.
Cable routing along the top tube and seatstays rather than under the bottom bracket keeps cables and cable housings up high and away from mud and other contaminants that can affect performance and reliability. &nbsp
| | |
| --- | --- |
| Stand over height | 810 mm / 31.9 in |
| Headset | 1"1/8 semi-integrated |
| Bottom Bracket | 1.370″ x 24 tp, BB shell width 68 mm |
| Frame spacing | 135 mm |
| Seat post diameter | 31.6 mm |
Safety and testing
The frames fulfill the safety and quality requirements according to the EN 14764:2006 standard. The testings were provided by accredited Engineering Test Institutes in Czech Republic and Slovakia.